University of Montana School of Social Work Field Education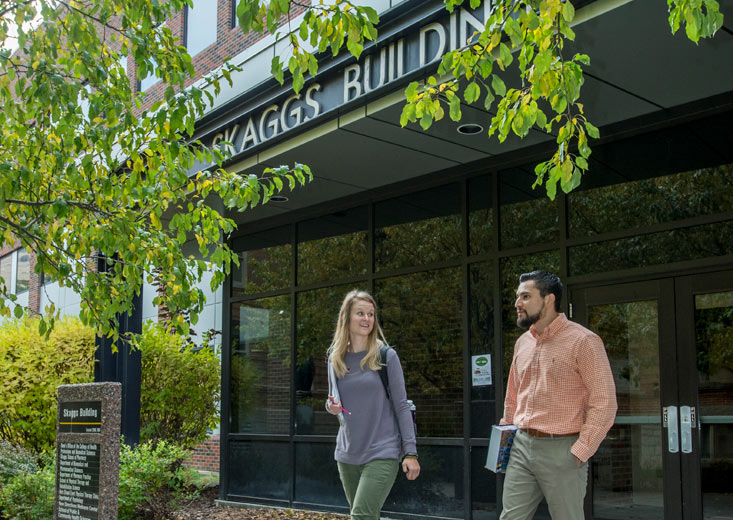 Welcome to Field Education
Welcome to Field Education at the University of Montana School of Social Work. Field Education is a collaborative process and we are grateful to have you on our team. We hope the resources below will equip you for your role as an agency field instructor (AFI) and ensure you feel supported in your commitment to our students. Please reach out to us anytime with questions: um.sw.fieldoffice@umontana.edu
Overview of Resources
The trainings and materials below are designed to help professionals orient to their role as agency field instructors. Whether you are new to the role or need a refresher, our training program allows agency field instructors to individualize content to meet their needs.
Each training module provides essential information for agency field instructors on a specific topic relevant to field education. All modules are short (between 5 and 20 minutes) and include additional resources underneath the video. A copy of the PowerPoint slides is also available in addition to other resources you might find helpful as you settle into the AFI role.
ON THIS PAGE:
1. Welcome to the University of Montana School of Social Work & Field Education
In this video, you will learn more about the University of Montana School of Social Work, meet the field education team, learn about the purpose of practicum and the benefits to agency field instructors and agencies.
Click here to view the UMSSW Welcome to Field Education PDF
[MUSIC PLAYING] SETH BODNAR: Hello, my name is Seth Bodnar, president of the University of Montana. And I want to welcome you to the University of Montana's online Master of Social Work Program. UM's mission is to transform lives by providing high quality and accessible education.
We shape global citizens who are creative and agile learners, committed to expanding their knowledge and building and sustaining diverse communities. With dedicated faculty members who are engaged researchers as well as excellent teachers, we take pride in providing an active learning environment with programs and services responsive to the needs of all learners.
The University of Montana is committed to excellence, creativity, and innovation in social work education. The Master of Social Work Program educates students to become competent, ethical, and collaborative practitioners, leaders, and researchers who are equipped to work with diverse communities and create change at interpersonal, community, and policy levels.
The online Master of Social Work Program prepares social workers to promote and support the profession's historic commitment to social, economic, and racial justice and equality through direct practice and community-based efforts reflecting the needs and dignity of all people.
Welcome to the UM family. We're so excited that you are joining our vibrant and engaging community. As we say often around here, go Grizz. Now let's hear from some of the faculty and staff members from the Master of Social Work Program.
JIM CARINGI: Hello, I'm Jim Caringi, professor and chair of the School of Social Work at the University of Montana. I'd like to take this opportunity to welcome you to our school and University. The School of Social Work has a long history of being on the cutting edge of education in our profession.
Our commitment to social and racial justice as well as integrated practice will place you in an excellent position to positively impact individuals, families, organizations, and communities in your part of the world. We could not be more excited for you to join us. Again, welcome to the University of Montana, School of Social work.
KAT WERNER: I'm Kat Werner. I am clinical faculty here at the School of Social Work at the University of Montana. And I serve as the director of field education. And in that role, I really have the pleasure of supporting all students throughout their practicum experience and making sure that they have just a rich and meaningful learning opportunity.
So when I think of that question, what does social justice mean to me, I really think of a quote that I came across several years ago that really brings to life the meaning of social justice. And the quote is, "To change everything, start anywhere."
And so yeah, I think social justice to me is oftentimes just a small act, a seemingly small action that can lead to significant changes in the life of one person or a family. Or it could maybe lead to really positive changes in a community. And so I think with that, the same really speaks to the power of social justice and social justice work, that it can be done anytime and anywhere.
SARAH REESE: My name is Sarah Reese. And I'm an assistant professor at the University of Montana and the director of the Bachelor of Social Work Program. For over a decade, I've worked in direct practice with individuals and families impacted by poverty, oppression, and mental health and substance use disorders.
This experience has informed my research interests, primarily integrated health intervention to promote health and well-being during the perinatal period, with a particular focus on substance use. At the University of Montana, I teach advanced integrative practice and research in the MSW program and serve as principal investigator of a couple of studies focused on individual and health system interventions for perinatal substance use.
As an instructor, my overarching goal is to help students to develop the value base, knowledge, and skills that they need to work with vulnerable populations through interactive classes and critical self-reflection. To me, social justice means an equitable distribution of rights, opportunities, and resources within a society. A just society would take into account historical wrongs and end systemic inequity.
When I think of social justice, I think of the families I've worked with. In a just world, those families would have access to all the resources they need to build the lives they dream of.
JEN MOLLOY: Hi, my name is Jen Molloy. And I'm an assistant professor and the director of the Master's of Social Work Program at the University of Montana. Social work, I believe, is social justice work. And there are so many practices, roles, and settings in social work to take action. And I look forward to learning how you want to embody social justice.
MARY-ANN SONTAG BOWMAN: Hi, I want to introduce myself. My name is Mary-Ann Sontag Bowman. And I'm one of the tenured faculty in the School of Social Work at the University of Montana.
I'm originally from California. All of my degrees are from the University of California at Berkeley. And that includes an MSW and a PhD in social welfare. I'm also a licensed clinical social worker. And I have worked in the field, primarily in health care and especially in the field of end of life care.
I define social justice in a really quick way, as making sure that every member of society has access to the same opportunities, resources, and experiences. And it doesn't mean that everything is fair and equal all the time because people need different things. But it means that people have the ability to achieve their dreams, their potential, and they're not held back by attitudes such as sexism or racism or ageism or any of the other -isms.
LOGAN COOK: Hi, I'm Logan Cook. I'm a licensed clinical social worker and licensed addiction counselor. Most of my working career has been in community mental health with people with substance use disorders and co-occurring mental health issues. So my role in the University is a clinical assistant professor, primarily working in the online MSW program.
So social justice means to me, I always think of the quote, something to the effect of, "Art should disturb the comfortable and comfort the disturbed." I think good social work should do something similar. Social justice should be focused on disturbing those who are comfortable, typically those in power if we're looking at macro level social work, and comforting the disturbed on maybe a micro level.
So if we're working in clinical social work, really working to try to improve the individual lives of the people that we're working with. So to me, that quote always seems to fit really well for social justice, as well.
DEANNA COOPER: Hi, I'm Deanna Cooper, faculty at the University of Montana School of Social Work. So I come to academia from a career in direct practice. And I teach a lot of direct practice classes at the University.
I also teach in the addictions and recovery field, as well. And I run the 2+2 Program, where we have DSW students from all around the state of Montana learning primarily online but in a blended model to provide opportunities for professional workforce in areas that are lacking them.
To me, social justice is an ongoing process as a social worker of making sure that I have literacy and understanding of policies that impact people and populations and I have an understanding of movements that are supporting change to increase the quality of life for people, especially those that are marginalized, that are affected by systemic racism and all the other -isms that we face, and that I as a social worker stay on top of having a voice and having a voice that can be heard in an arena that can be full of people talking so loud, nobody hears, but to have a positive impact in a manner that I use my voice, including taking part in our civil discourse and our elections.
CO CAREW: [foreign language]
My name is Co Carew, Colleen Mary Carew. And I am positioned currently– I'm on the land of the Salish, the Kootenai, and the Pend d'Oreilles people here on the Flathead Indian Reservation. My entire career has been– almost my entire career– I've worked as a social worker mostly in native communities and either developing programs for children and families in the communities, working with school-based programs, and then onto academia.
I love to teach. So I have taught and founded the accredited social work program at Salish Kootenai College. And now I'm very excited to be teaching at the master's level at the University of Montana.
Social justice means access to me and allowing and bringing access to people who– access to education, access to clean water, access to food, access to information. Secondly is, social justice is not just about– it's really reflecting about oneself or having a reflection of oneself and how they relate to other people, but also to really look at restoration.
So individually, if we have found ourselves maybe reflecting and needing to apologize, that's what we do. We apologize. And in communities, organizations, agencies, or countries, we also look at an apology, but there's reparation. So there's some kind of restorative justice. And I really look at social justice as reflecting and using this paradigm of restorative justice, as well.
JESSICA LIDDELL: Hi, I'm Dr. Jessica Liddell. And I'm really excited to be joining the School of Social Work as a new assistant professor this fall. I'm really looking forward to getting to work with students and to teach classes and to share my own research interests which relate to maternal health, reproductive justice, and Indigenous health disparities.
So when I think about what social justice means to me, it really focuses on the need for self-reflection. So I need to really critically think about the ways that I might unintentionally or intentionally be perpetuating oppression and to really be open to changing those things, even if it's hard.
And then, second, it really involves going to communities themselves and letting them define what social justice is and really letting them show me how I can be helpful, so not coming in with my own ideas about what needs to be changed or done.
AMANDA CAHILL: Hi, I'm Amanda Cahill. I am an assistant clinical professor of social work. For me, social justice is kind of everything from making sure people have access to nutrition, to health care. Everything kind of has a policy link for me as a macro level social worker. And so social justice is really either dismantling or building up systems that can provide access and equity for all people and making our basic quality of life accessible to everyone.
AMY CAPOLUPO: My name is Amy Capolupo. And I am the director of Disability Services for students and a program called Montana 10, which seeks to promote greater equity for low-income college students and seek to improve their graduation and retention rates by providing financial incentives to lessen the burden of attending college.
Social justice to me means equity, inclusion, and access. So in terms of my role as director of Disability Services, we're looking at revamping what we do, mainly decreasing the need for accommodation and increasing just equity in the classroom so that you don't need to go to a specific office to receive accommodation.
So being inclusive, being equitable. And to me, equity also means that equity isn't equal, right? Sometimes you may need to put more resources in one area to support a population so that they can achieve, so that they can be included. You may have to change physical structures. You may have to change programmatic access to achieve social justice. So equity and access, those are the two key components of social justice.
ASHLEY TRAUTMAN: Hi, my name is Ashley Trautman. I'm an assistant professor here in the School of Social Work. Part of what I do in my role is of course teach classes. But I also serve as a training and technical assistance provider at the National Native Children's Trauma Center. So I've been there for a number of years doing different types of grant work.
What does social justice mean to me. That's such a good question and one that probably has many answers. I think at the core, social justice means redressing historical and contemporary wrongs that have created inequitable conditions for many minoritized and historically excluded populations.
I think it means critically evaluating systems of oppression, the way white supremacy is rooted in nearly all of the systems that social workers work within, and then using skills that we learn as an advanced integrated practitioner to disrupt those systems, whether it be on the micro, meso, or macro levels. I think it also means decolonization, advocating for tribal sovereignty, continuous critical examination of our practice to identify places where we might be complicit in perpetuating racism, ableism, heterosexism. The list goes on.
I think social justice also means acknowledging the inherent resiliency of so many of the individuals and families in the communities that we work with, and then working to honor and create space for that resiliency to flourish. And finally I think that whatever definition of social justice that we as individual practitioners might come to, what that really looks like in practice has to be defined by the individuals and the communities who are experiencing inequity. So their vision and their voices should really craft our path forward.
2. Field Education FAQ
See below for frequently asked questions about Social Work Field Education.
No. Private practice placements are generally too narrowly focused and do not allow for student exposure to all practice levels. Students who seek hands on clinical experience should focus their outreach efforts on agencies and programs offering integrated behavioral health services, such as mental health organizations, clinics and hospitals, domestic and sexual violence programs offering crisis intervention and support services, schools etc.
Generally speaking, no, as students are encouraged to get diverse learning and practice experiences over the two practicum placements. However, sometimes students have the opportunity to stay with the same agency but take on a completely different role that allows for diverse and new learning. In that case, staying at the same agency might be an option, although students have to submit a proposal to the FEP.
The majority of practicum agencies do NOT offer placements that allow for evening and weekend hours – such placements are rare if not nonexistent! Services to and engagement with clients is often times limited during evening and weekend hours thus it is hard to ensure for a rich learning experience. Students need to plan to do their practicum hours during regular business hours when other agency staff are available to provide support.
Employment based practicums (EBP) can possibly be an option as long as your place of employment can meet the EBP policies and requirements. In short – a practicum at your place of employment needs to ensure that your practicum role and tasks provide you with new and distinct learning opportunities and meet the CSWE competencies. In addition, your employer needs to agree to the practicum program requirements, including providing weekly MSW supervision.
Students need to plan to do their practicum hours during regular business hours when other agency staff are available to provide support. Being present during normal business hours will allow students to be fully involved in the day to day processes of agency life, including attending staff or clinical meetings, supporting walk-in clients, shadowing other social workers, or jumping into other activities and opportunities available to them.
Students working full-time in addition to completing 15-hours of practicum each week, are strongly encouraged to proactively discuss need for flexibility with their place of employment as field placement hours tend to primarily occur Monday – Friday 8am – 5pm.
Many students find a part-time job that offers evening and weekend hours. This arrangement allows them to focus on their practicum, managing school workload, and ensuring ongoing income.
Although the majority of practicums are unpaid, some agencies do offer paid practicums (either hourly or via an educational stipend), and some students are able to apply for a practicum with their existing employment agency. That said, there are pros and cons to consider about paid placements, highlighted in THIS ARTICLE. Practicum is intended for students to be learners, make mistakes and wear different hats, and at times, paid placements limit the freedom of being a learner. Paid placements or being in an employment-based practicum also affect how students can set boundaries. It is a lot easier to say "no, I cannot work this shift because I have met my practicum hour limit etc." in the student role versus being a paid staff member who is an employee first and student second.
Click here for Frequently Asked Questions about Field Placement