Online Student Life at UM Online
Learning at UMOnline
The University of Montana provides students with the opportunity to earn a high-quality, life-changing education on their own schedule. Created with flexibility in mind, our program encourages you to think critically, live ethically, and explore creatively, all while balancing your responsibilities.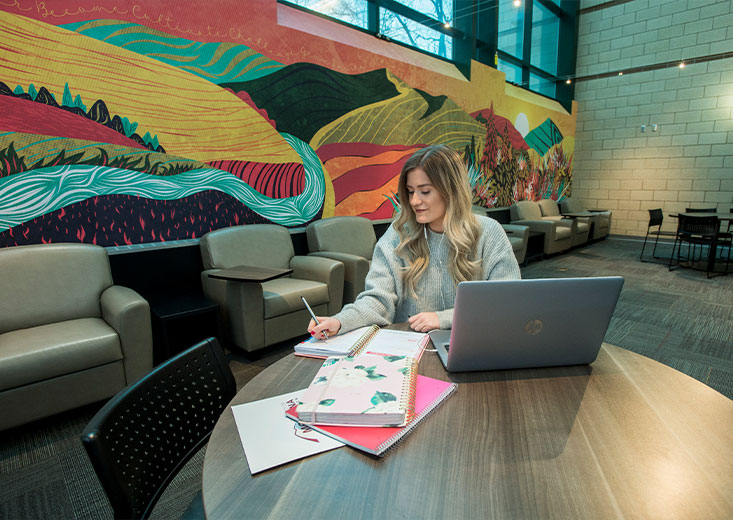 About Online Learning
Our faculty and staff are devoted to ensuring you have the skills you need to thrive in a complex world full of unknowns. Students from every walk of life have access to world-class education and a diverse community.
Our online classes feature the same expert content you'd get on campus and allow you to connect with students and faculty from all over. You'll encounter unique perspectives and graduate prepared to thrive in a variety of settings. In your online classes, you'll grow into an agile learner, ready to meet the challenges of the future with a degree that will help you grow personally and professionally.
Find a Program
Click the link below to learn more.
View Program
Technology & Support
We offer 24/7 tech support so you are never alone when pursuing your online education.
Technology and Support
How Does Online Compare to-On Campus Learning?
Quick Tips for Online Learning
Network with your peers. Learning communities don't only develop on campus. Technology allows you to connect with classmates from around the world.
Accept support from faculty. Our faculty members want to help you succeed. Build relationships with them so they can ensure you grow in your online program..
Commit to learning. Flexibility doesn't mean that learning isn't a top priority in your life. Focus on your educational goals and put learning at the forefront.
Remember where you're heading. Keep your eye on the prize. At UM, you'll grow personally and professionally, making your effort worth it.
Frequently Asked Questions
Yes. Our beautiful campus is located in the heart of Missoula, which is Montana's second-largest city. Surrounded by stunning landscape, it's an incredible place to both visit and study.
No. You will be awarded the same degree that our on-campus students receive.
While online programs often offer more flexibility and allow you to study from anywhere, you will receive the same high-quality education and care no matter the modality you choose.
Our faculty are committed to the success of every student and available to online students continuously. Find out more about the online experience.